Well-Known Member
Verified

Sep 5, 2017
186
635
93
14
People say a picture tells a thousand words, so I have made an infographic to show just how ridiculously flawed our current bail system is.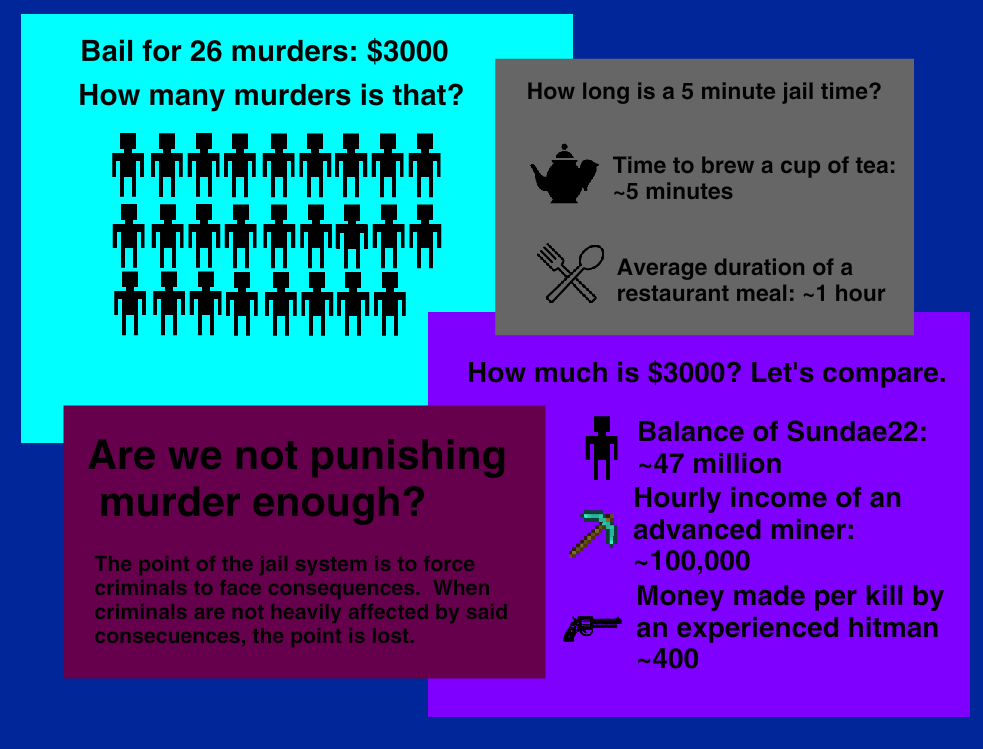 Now first, I know I have said in the past that our bail system is like bribery, and I stand by that. The main issue that I had with the bail system was that the money was paid directly to the officers, which I felt resembled corruption, a type prominent in countries such as Mexico. Now, however, I see that the bail system encourages police to jail criminals, because the better they do their job, the more they get paid. This motivates them and should work fine, except for the itsy-bitsy little fact that it actually doesn't. Unless the arrest is for illegal guns or drugs, the bail is minuscule. Bails above $2,500 are rarely paid. Officers don't run all over the place chasing criminals because it doesn't yield any significant income. Worse, criminals can just pay a tiny bail or just wait 5 minutes and be released.
@Jabu
suggested that the bail price/jail time is increased, and I agree. Therefore I have devised some new bails and jail times. What I am thinking is that the plugin would allow the officer to set the jail time, so I will list the new bail and jail time for murder (By far the most common crime and what I think needs the biggest changes made)
1-5 kills: $1750, 8 minutes
6-10 kills: $3250, 12 minutes
11-15 kills: $4250, 16 minutes
16-20 kills: $5450, 20 minutes
21-25 kills $7500, 26 minutes
26+ kills: $9250, 35 minutes
I know, I know, it's extreme. But let's be honest. If a person kills 26 other people, that's insane and needs to be punished. Think about it. 26 people amount to over half of the server online during peak hours. If someone butchers the equivalent of over half the server, they deserve to be indicted. I suppose another concern is that even though the higher bails will motivate police more, the bails won't be paid due to how large they are. Well, that's where the extra jail time comes in. Sure, $9250 is a lot, but it is NOTHING compared to being forced into a cell for 35 minutes real time, as during that 35 minutes one could earn close to $50000 with a could miner job. It would make murders less frequent, riskier, and would motivate police to react faster. Jail would turn from a brief inconvenience to a serious threat; the way the system should work.