Moderator
Staff member
Moderator
Verified

Mar 18, 2017
3,728
5,093
113
Note: This court case has provided clear accusations and evidence and there is a need to have at least the defendant to comment before this being decided
Who are you accusing:
@Jabu
(And anyone else who was involved in this situation besides Gjegevey)
Accusation #1
It has been a clear precedent now on the server that inactive players after 60 days have their properties resold on /as info for sale at 1 am est after they have met the 60-day mark. Jabuu owned two plots on my island 1)paradise shores a mini-island he regioned himself before selling bob and 2) A large apartment building one of the largest on the server. This past week before last Jabuu reached his 1 month and 26-day mark of not being on the server just 4 days away from his plots being sold. It is clear he is not an active player of the community he even messaged me on discord asking how long he has been gone because he knew he was inactive. Two weeks ago I was searching around my island Bob when I noticed that his apartment building and his mini island was owned by Gjegevey. I later found out that Jabuu transferred ownership to his bob plots to Gj without even coming on the server clearly evading the 60-day inactivity rule. He purposely transferred plots so they would not go on /as info forsale. I, of course, would not make such an allegation without clear proof this is an unethical and possibly rule-breaking action.
This has been attempted by another player before Enderport who tried to transfer plots when he left and staff stopped him in his tracks knowing how unethical this was. Heather the longest-serving admin said this when that player tried to transfer plots to his friend so they would not be sold "No Enderport, your plots will autosell just like everyone else's no one is exempt from the inactivity autosell." Let me make this clear staff has already made this decision plots cannot be transferred to avoid resell. So why was this allowed to happen?
After finding out some information some have claimed that Jabuu's computer has been broken and he was not able to get on, however, Jabuu months before this happened has been inactive and on hypixel. Recently I have found out that Jabuu has no plans to come back on the server to get his plots back and that the plots "were gifted to the player who received them. It is a clear violation of rules and is unethical that an inactive player who is not part of the community can give someone over $7,000,000+ worth of property including a mini island putting my island, /as info forsale, and the economy at disadvantage.
Accusation #2:
Jabuu broke the agreement between him and I. When I bought bob in trade for money, conditions, and a plot he wanted I got Bob. The conditions were he got to keep his private island for his personal use and his apartment building for income. Not only that but I gave him my mansion h310 which holds tons of memories for me to Jabuu for letting me buy bob and he agreed that when he sold me bob I would sell him H310 for
him to own
. However, Jabuu broke this agreement by giving the plots away for $0 in effect adding a third party into our agreement.
Accusation #3:
Jabuu when requesting these plots be transferred ownership broke the following rule:
Abuse of not fairly priced regions
No purchasing regions that are being sold for absurdly low prices, such as 0$ or 1,000$ [Region taken away + partial balance reset - Permanent ban]. Jabuu transferred over $7,000,000 worth of property on my island for $0 violating this rule and putting me at a disadvantage including stealing opportunities for others to get an island off /as info forsake
Request: 1) I am suing for my mansion h310 back after the agreement was broken. 2) I am suing to ask that the current property Jabuu transferred on my island is given to a third party (nibble) to either be sold on /as info forsale or given to the island of bob for un-regioning for a fair price. 3) I am asking for a temporary restraint on these plots being sold until this is resolved.
Evidence:
[21:33:36] [Client thread/INFO]: [CHAT] [[M]AngryDhoge -> me] I wanna keep my apartment building tho
[21:33:38] [Client thread/INFO]: [CHAT] [[C]iLavaFlakei[$$$] -> me] i remember that feeling xD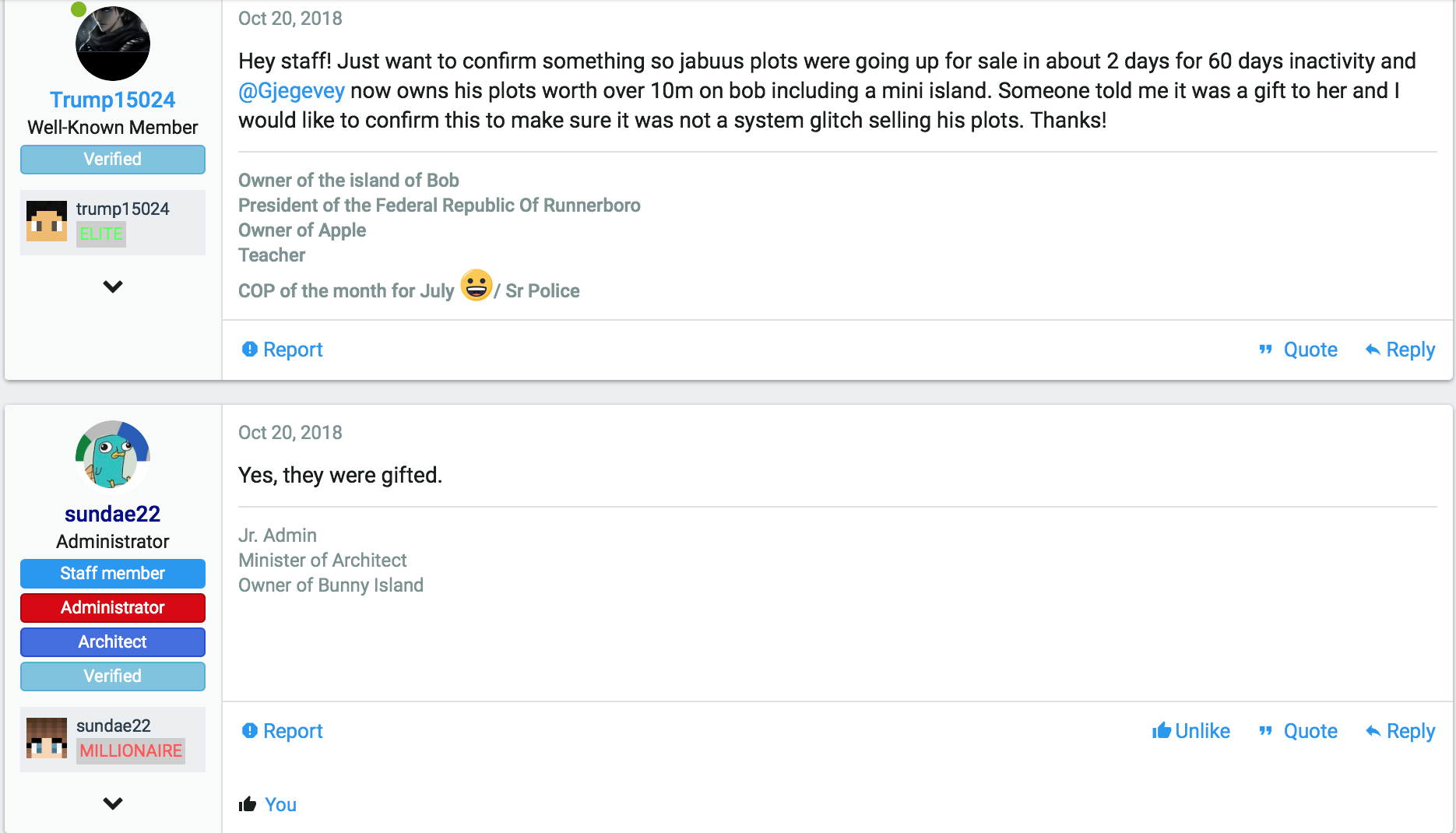 [21:33:41] [Client thread/INFO]: [CHAT] [[M]AngryDhoge -> me] that ok
[21:39:27] [Client thread/INFO]: [CHAT] [MCRegions] You teleported to h310.
[21:39:27] [Client thread/INFO]: [CHAT] [MCRegions] h310 is bought by trump15024.
[21:40:00] [Client thread/INFO]: [CHAT] [MCRegions] h310 is successfully put into reselling mode for $1.
[21:40:01] [Client thread/INFO]: [CHAT] [MCRegions] h310 can be bought for $1 from trump15024.
[21:40:05] [Client thread/INFO]: [CHAT] [MCRegions] Your region h310 has been sold to Jabuuu for 1.0.